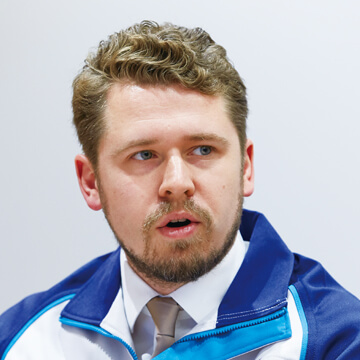 Takashima:There was a place where these differences in world markets could be understood by the different PEC sites and all of PEC could think together about where we should be heading from here.
That was the Global Sales Meeting held in Germany in November 2019. Mr. Bartels, you took part in this. What was it like?
Bartels:At the Global Sales Meeting, we clarified market issues at sites in each country and formed action plans (targets).
Managing the monthly targets for each site, we shared with each site how we in Europe were moving ahead with the plan. Up until now, PEE and PED have not had any connections in general, due in part to the differences in market environments.
Naturally, Japan and PES (China), Japan and PEE, and Japan and PED all have links, with Japan as the core, but there are few links between sites, and PEC Global has never come together in one place.
But by holding meetings like this one, where each site attends, means that for example if America has a problem or issue with something, then Europe can say, "we'll help you with it." It's not rugby, but Global PEC really is One Team! [Laughs] The world's automotive society needs will be rapidly changing from here on, so it's important that PEC makes its diversity one of its strengths.
Noguchi:We at PED have been in quite close communication with PEE as well. In terms of technology as well, for example, at the World Wide Technology Conference held in Japan in December 2019, we announced PED's strategy roadmap regarding future prospects based on the needs of the North American market.
This was the first such initiative for Global PEC.
Kondo:What I sensed at this conference was, for example, recently, overseas sales people have brought a range of information, but even though more people are asking "can you make us this?" but there wasn't enough discussion at Japanese technology sites along the lines of "why do you need this sort of thing?" or "what is the purpose for developing or improving this thing?"
There were aspects where we were not able to share an awareness of the essential, core part—what the development level actually is—with regards to what is required of us.
That's a big issue for those of us in the technology field.
Bartels:So that's a failure of letting people know that PEC is going to make this sort of product in future, or we're aiming for this sort of advanced technology, in the fields of product development and technology?
Kondo:Right. We're getting lots of inquiries from overseas these days, but even when, for example, a PEC sales representative asks someone in R&D if they can provide some materials related to a given product so the reps can go to these markets and sell them, they often come back to us with "Sorry, we're unable to develop in time, so we don't have any at this moment."
Kato:Indeed. In that sense, too, the World Wide Technology Conference was a great opportunity for us as well. It really is important for employees in many fields to learn about global trends and share their understanding.
Takashima:Technical development and product development are just so broad, from improvements to the detailed specs for current products to larger themes of dealing with new needs, each of which takes time.
But what I want for PEC is a message that lets people know what products and technologies are going to be needed in future and what we should aim for next.
Kondo:In that sense, too, it's important to have a wide knowledge of the issues and needs from the United States and Europe.
I think we have to be actively aware of and understand information and targets regarding a range of themes and overseas sites, and actively work ourselves to communicate.
Kato:We in production technology haven't really had a lot of interact with overseas [Laughs].
In our case, our contact with overseas is only when solving issues with production facilities overseas or developing production facilities for products we're now producing overseas.
The focus has been on how efficiently we can make that product, and so far, we've been happy with that. Frankly, we don't have much interest in the issue of what sort of products PEC is going to want to make in the future, and don't really fully get new product trends.
However, as long as we continue to manufacture at PEC, I think we need to broaden our knowledge of trends like CASE, actively taking in detailed information, while contacting other fields.
Takashima:But lately, we get a lot of inquiries from the production technology people along the lines of "Is production of this product going to increase in future?".
In Sales, we get a lot of questions like "What sort of facilities should we have if production quantities are going to increase three years from now?".
We in Sales do, of course, work with forecasts of three to five years ahead, times for which we don't have any orders, so I think we do have a responsibility to let the production technology people know what the trends are.
We can't go around saying "This product probably won't be all that big" and then end up being unable to ramp up production when needs suddenly grow quickly. [Laughs]
Kato:This World Wide Technology Conference was our first such initiative, people--including me--who hadn't know PEC people in other departments that well were for the first time able to sense that PEC's connected with the world, the industry, in these ways, or how great it is that all these different departments are working towards the same goal.